Universal Contract Manager (UCM) is designed specifically for ease-of-use and adaption to your unique requirements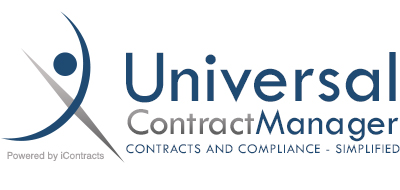 Universal Contract Manager (UCM) is the perfect cloud based Contract Lifecycle Management solution for your business. Whether your goal is simply to create a central database of your active contracts or manage the complete contracting process from request to archive, UCM has the flexibility and extensibility to meet the needs of an ever fluid market. Our 30 day quick-start implementation methodology provides a fast return on investment and the confidence to know that you will never miss an important milestone or risk non-compliance with contract terms or regulatory requirements again.
Compliance management is improved 55% with a contract management system. Aberdeen Group
Universal Contract Manager tracks the entire contract lifecycle from contract request to archive.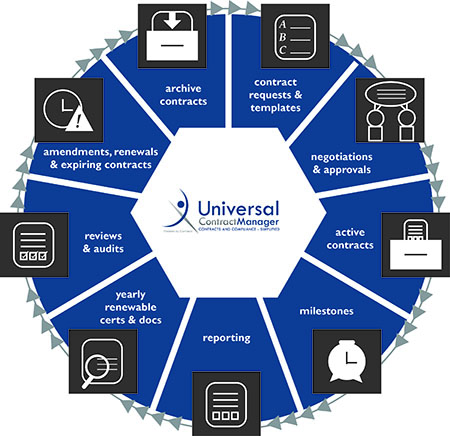 Complete approvals and agreements in hours, not days, with electronic signature. By integrating with Docusign, the entire contracting process can be streamlined electronically, saving time and money. Quickly and securely access and sign documents while staying compliant.
Central area for managing the entire contract lifecycle and contract components
Automate contract processes, ensure compliance, expand visibility
UCM is highly configurable to meet your organization's unique contract processes
Improves organizational efficiency and productivity
Reduces risk with the ability to view reports and provide audit tracking instantly
Eliminate document handling and storage
Never miss an important milestone, expiration, auto renewal or cancellation term again
Industry leading rapid implementation
Central database of all contracts and supporting documents
Global Search – Find contracts in seconds based on textual content and/or metadata
Unlimited storage of all contracts and supporting legal documents
Secure, Web-Based access via browser
Robust security model to permit or limit visibility
Edit in the cloud or from your desktop using MS Word
Automated workflow with email notifications for creating new and updating existing contracts
Integrated Dashboard customizable to individual users
All data fields reportable for an unlimited number of saved and ad-hoc reports
Mass loading of existing contracts